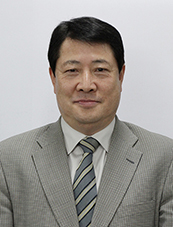 MOON, Young Hoon
Major

Precision Manufacturing Systems Major
Lab

Room 710 @ Mechanical Engineering Building
Office

051-510-2472
Website
Email
Research Field
Direct laser melting process

A new concept of rapid metal forming technology that can produce the tools necessary for the production of metal products or products of three-dimensional shape directly from the geometrical data of the three-dimensional shape stored in the computer by using the functional material required by the product

Hydroforming process

A technique of forming a desired shape by applying a high fluid pressure to the inside of the tube after attaching the brass material to the mold

Flexible roll forming process

The existing roll forming technology that can only form parts with constant cross section can be improved to create integrated shape and cross-sectional shape in width / depth direction.
Education
Colorado School of Mines Ph. D.
KAIST Department of Advanced Materials Engineering M. S.
Korea University Department of Materials Science and Engineering B. S.
Career
POSCO Professor
Vice Chairman, Korea Institute of Metals
President, Korean Society of Plasticity Engineering